Kiev, Ukraine civilians were killed when shells hit a trolley bus station in the eastern Ukrainian city of Donetsk, the City Council there said Thursday, as the months-long conflict in the country's east showed little sign of easing.
In total, 10 civilians have been killed and 20 injured in shelling of four city districts in the past 24 hours, the Donetsk City Council said on its website.
"As of now, the situation remains difficult," the statement reads.
The Organization for Security and Cooperation in Europe, which has a monitoring mission in Ukraine, said it was still assessing what had happened in the bus incident. Deputy Chief Monitor Alexander Hug told a news conference that an OCSE patrol had seen seven bodies near a vehicle that had been hit.
Ukraine's Defense Ministry blamed pro-Russian separatists for the attack, saying it was launched from areas they control. Russia's Foreign Ministry, though, demanded an investigation and criticized Ukraine for its shelling of cities.
Donetsk has been a stronghold for the rebels, who have been battling government forces for control of the Donetsk and Luhansk regions since the spring.
Militants shelled two civilian areas elsewhere in the Donetsk region early Thursday, Ukraine's state-run Ukrinform news agency reported, citing Donetsk regional police Chief Vyacheslav Abroskin.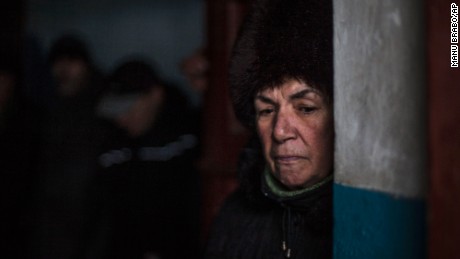 The reported shelling comes after talks Wednesday in Berlin among the foreign ministers of Ukraine, Russia, Germany and France aimed at resolving the crisis through the implementation of a peace deal agreed to last year.
After Wednesday's talks, the four foreign ministers condemned the continuing violence and called for the peace deal agreed to in Minsk, Belarus, last September to be respected.
Fighting in the Donetsk and Luhansk regions "has severely escalated causing the loss of many human lives including civilians. This must stop immediately and the regime of quiet must be restored," the ministers said.
They said "tangible progress" must be made on full implementation of the Minsk pact ahead of a planned peace summit.