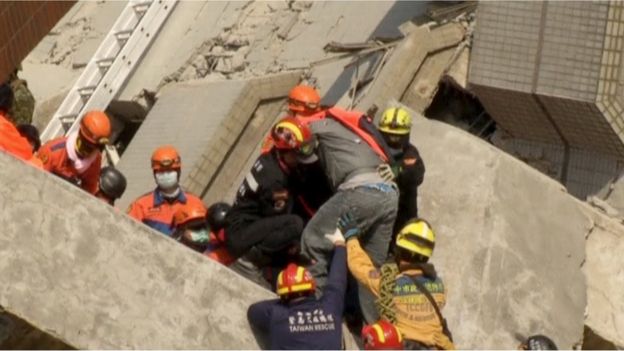 Rescuers pulled 20-year-old Huang Kuang-wei out alive after more than a day
The 17 storeys of the Weiguan Jinlong (Golden Dragon) apartment complex, home to at least 256 people, crumpled down on each other as the quake took hold just before 04:00 (20:00 GMT on Friday).
More than 200 people were rescued, but a baby, young girl and two adult men were among 12 in the complex who did not survive, officials said. Elsewhere in the city, at least two other victims were killed by falling debris.
Hundreds of soldiers have joined in the rescue effort, with the help of hi-tech equipment and rescue dogs, and shelters are due to be set up for those who have lost their homes in the city of two million people.
More than 24 hours after the earthquake, fire fighters, police, soldiers and volunteers were picking through the ruins, some using their hands.
A woman surnamed Chang said she was waiting to hear from her daughter, who lived on the fifth floor of the fallen apartment block.
"She's not answering my phone calls. I am trying to hold my emotions and stay strong. I'll do that until I find her," she said.
"I know they will find her, but I have also prepared for the worst," she added.
A man in his 60s, whose son escaped and whose daughter-in-law was in serious condition, was trying to help rescuers pinpoint his 11- and 12-year-old grandsons.
Interior Minister Chen Wei-jen said investigators would examine whether the building's construction met requirements.