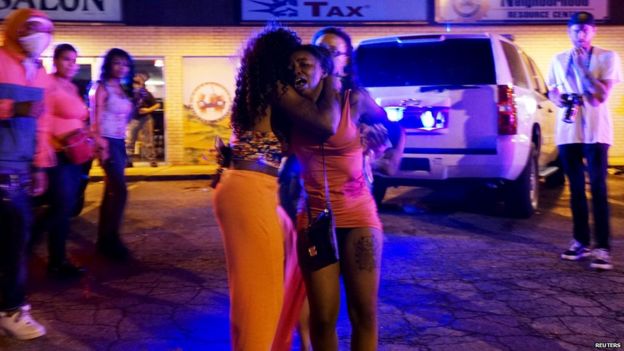 A man has been critically injured in Ferguson, Missouri, in an exchange of gunfire with police at a rally marking the anniversary of the killing of unarmed black teenager Michael Brown.
Police said he was armed with a stolen gun and they had been tracking him. They blamed the violence on a small group of people.
Four officers have been placed on administrative leave.
The wounded man's name and age have not been released by police.
The shooting of 18-year-old Michael Brown in Ferguson by white police officer Darren Wilson in August 2014 sparked demonstrations across the United States.
Although Mr Wilson was cleared of wrongdoing by a grand jury and by the US Department of Justice, the teenager's death fuelled a national protest movement against the use of excessive force by police officers.
A justice department investigation also found widespread racial bias in the Ferguson police force.